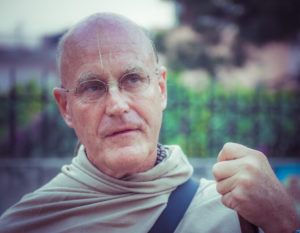 H.H. Indradyumna Swami was born on May 20th, 1949 in Palo-Alto (California, USA).
Leaving aside his university studies at an early age, Indradyumna Swami devoted himself to the search for spiritual knowledge. He finally reached his goal in 1970, when he discovered the International Society for Krishna Consciousness in Detroit, Michigan. After several months of associating with devotees, he joined the temple on East Jefferson near the center of the city.
Within a week of joining, he began participating in and even leading harinam (congregational chanting of the Lord's Holy Names) and book distribution parties. That same year, Indradyumna Swami met his eternal spiritual master, His Divine Grace A.C. Bhaktivedanta Swami Prabhupada, Founder-Acarya of the International Society for Krsna Consciousness, and received both harinam and brahminical initiation from him.
Following the instruction of his spiritual master to "preach boldy and have faith in the holy names," Indradyumna Swami left the USA in 1971 (only a year after joining) and headed for Europe where he would assist devotees in opening new centers.
Srila Prabhupada's desire was that noble and educated people should dedicate their lives to spreading Krishna consciousness all over the world. In order to fulfill this desire of his spiritual master, Indradyumna Swami took sannyasa (renounced order of life) in 1979, at the age of 29. In 1983, he served as temple president for a few years at the New Mayapur Project in France.
Since 1986, Indradyumna Swami has been traveling and spreading the message of Krishna Consciousness throughout the world in countries such as the USA, Poland, South Africa, Australia, New Zealand, Hungary, Ukraine, Russia and South America. He is well-known as one of ISKCON's most active preachers.
A shining example of his large-scale preaching is the traveling Festival of India tour which he organizes every year in Poland. These festivals attract thousands of people, who learn about and relish the nectar of Krsna Consciousness through music, dance, drama, spiritual discussion, and prasadam (food that is first offered to the Lord).
Since 1995, Indradyumna Swami has been writing his Diary of a Traveling Monk, which describes many of his adventures and realizations while continuously traveling.